Skip to Content
Kate Watson-Smyth Collection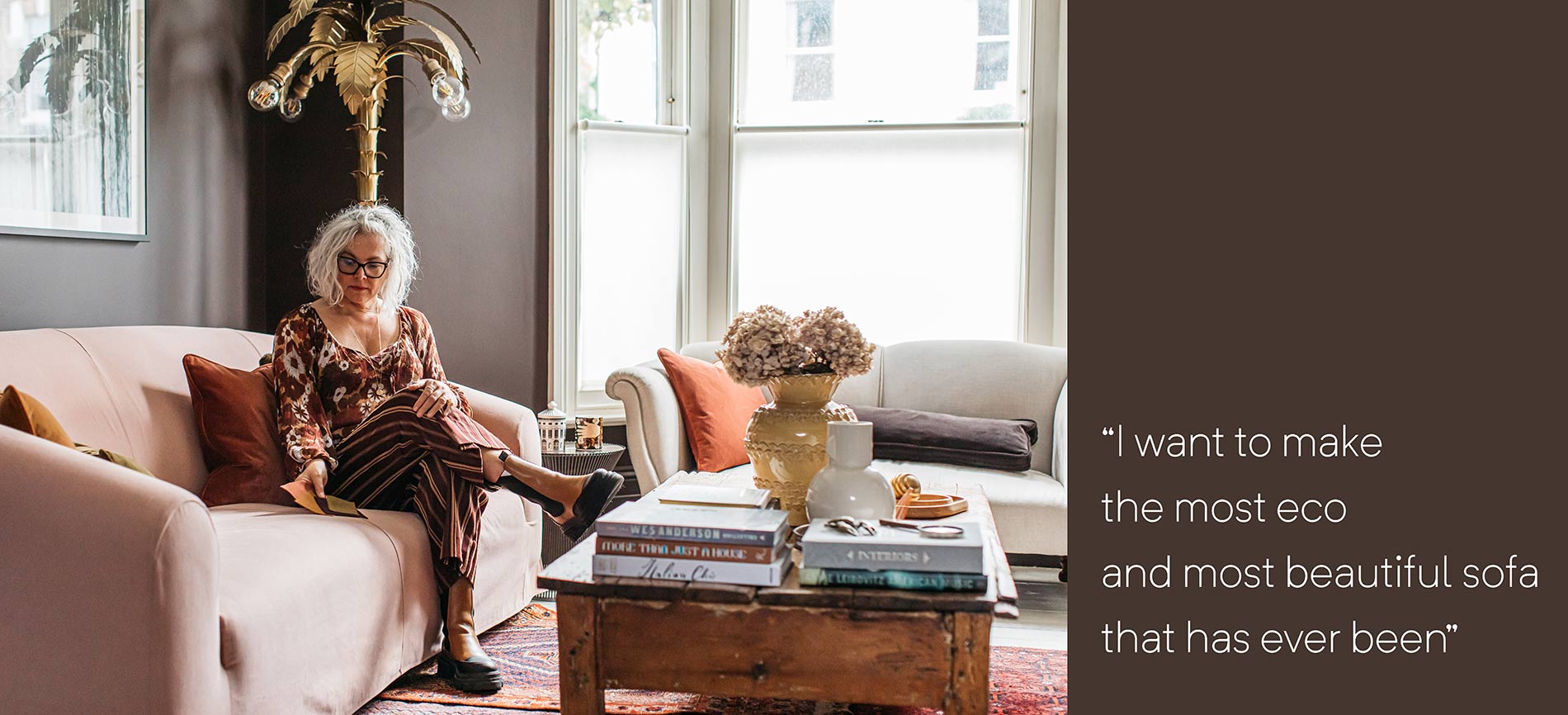 These are the words award winning interiors journalist Kate Watson-Smyth spoke to founder Leigh Harmer two years ago. Now Love Your Home is proud to present our newest collection, in collaboration with Kate, that combines our shared passions for design, quality and the ever more important need for true sustainability.
Kate's long working relationship with Love Your Home meant this partnership was a natural progression. Passionately involved in every aspect of the design process, Kate "didn't want to be one of those "designers" who just lends their name to a project and pretends it's theirs". Clear from the outset, Kate knew the sofa "must be made from sustainable and natural fibres, used recycled and recyclable materials, have covers you can change with the seasons...oh and it must be curved."
The collection, debuting at Decorex 2021 in London Olympia, centres around the 'Vita' sofa. 'Vita', meaning life, encapsulates the purpose of this collaboration; to create timeless designs that are built to last a lifetime, be loved anew year on year and totally reject the wasteful world of fast, disposable furniture. The 'Vita' Range details: The 'Vita' Sofa and it's accompanying range are united by their beautiful curved design. These pair with the launch of our new fabrics; Recycled Velvet and Recycled Cotton, in a range of warm, earthy tones inspired by Kate's home.

The 'Vita' is available in both a fixed Recycled Velvet cover and loose Recycled Cotton cover that can be easily switched. "You can buy either a cotton or a velvet cover. Or set of two. You can stick to only velvet or perhaps you prefer just cotton. This allows for seasonal changes or just mood swings depending on how you want to look at it." This flexibility future proofs every piece in the collection as a sustainable investment, to be loved for a lifetime. Kate "plans to have the Mulberry velvet in winter and the Plaster cotton in summer. Until I redecorate, when I might switch to either Caper or Amber velvet. And now my sons are grown up I might even be able to have Porcelain cotton in summer".
Sustainability in the Collection:
Designed and manufactured in the UK, every part of this collaboration considers its environmental impact.
"The wooden frame, as you would expect, is FSC-certified and guaranteed for life. Inside there is recycled chip foam that would otherwise have ended up in landfill, and 'Cocolok' coconut fibre which is dipped in natural latex and used instead of petroleum foam. The seat structure is made from traditional coil sprung springs, which means the 'Vita' sofa will last longer and will not collapse after a few years as many modern sofas do due to feathers and foams collapsing."
Made from 100% recycled plastic bottles, the new Recycled Velvet is at the forefront of sustainability in upholstery velvets. A UK first, this velvet is fully Global Recycled Standard certified and meets the high OEKO-TEX standard, being 100% free from harmful substances. Woven using solar power energy, the Recycled Velvet transforms an otherwise wasteful substance into this unrecognisably beautiful fabric, all without any harmful chemicals. From it's sustainable creation in Italy, to the durable, long lasting final product, the Recycled Velvet is the perfect eco-friendly option without compromise.
The Recycled Cotton is made from 80% offcuts from the fashion industry, saving hugely on wasted material, water usage and carbon emissions. Like the Recycled Velvet, this process is chemical free. Together, these fabrics begin Love Your Home's 'Sustainable Edit', providing the highest quality fabrics in the most sustainable way possible."