It's Here!
We are thrilled to announce our new collaboration with the iconic London-based brand, Tobias & The Angel. This exciting collection is all about reinventing the rich archive of hand-carved wood blocks that the brand's founder, Angel Hughes, salvaged from a languishing company when she founded her London-based business in 1986. Each of the blocks that she rescued were individually painted using traditional techniques and for this collection we have put together two of these striking prints in a variety of colours.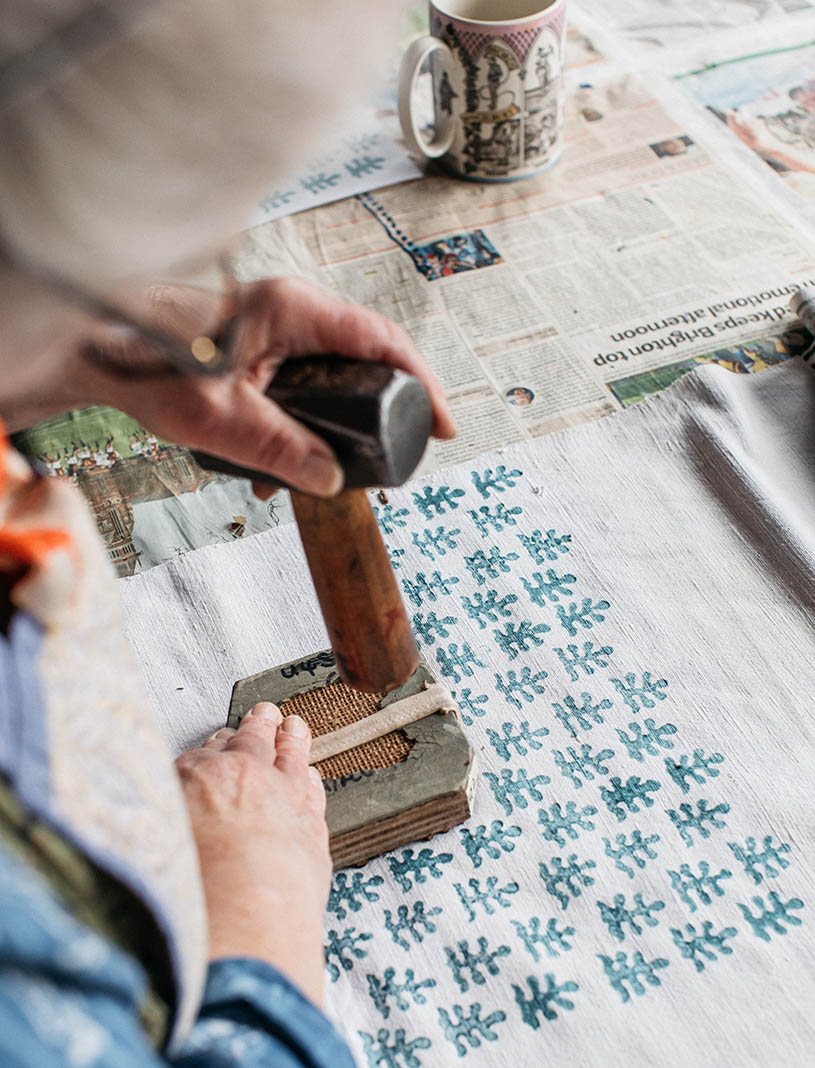 Angel of Tobias & The Angel using traditional block printing methods to create the iconic coral print.
These beautiful fabrics will work perfectly whether you're styling a chair, a room or your entire home with us – our collaboration has been carefully considered so that it will fit into your home flawlessly. The collaboration aligns perfectly with Love Your Home and Tobias & The Angel and was a really special and organic relationship, the result of which is clear to see.

The Bloomsbury Sofa in Vintage Linen, Bone, The Virginia Armchair in Tobias and The Angel Coral, Mustard. Tobias and The Angel Coral Cushions, Mustard, Oatmeal, Squid Ink and Garnet
Turn your beautiful house into a beautiful home with inspiring fabrics and let pattern do the talking. Simple and striking design is of particular importance to this collaboration and good design is summarised by how you feel when all of the elements, including touch and visuals, are combined.

Elsa Armchairs in Tobias and The Angel Coral, Garnet. Tobias and The Angel Coral Cushion with frill, Garnet
The Collection
For this collection, you can choose between Coral and Wave prints, with Coral coming in five different colourways – Squid Ink, Mustard, Garnet, Rust and Oatmeal. The Wave print comes in Soft Blue and Olive. Each of the prints are first hand-block printed by Angel and then converted into a digital print, which means that each one has natural shades and outlines that remain throughout the digital process. This is an authentic and unique aesthetic thanks to the combination of both modern and traditional techniques - it will bring definition and style to your home and you can tap into the ethos using the fabric on any of our furniture or cushions.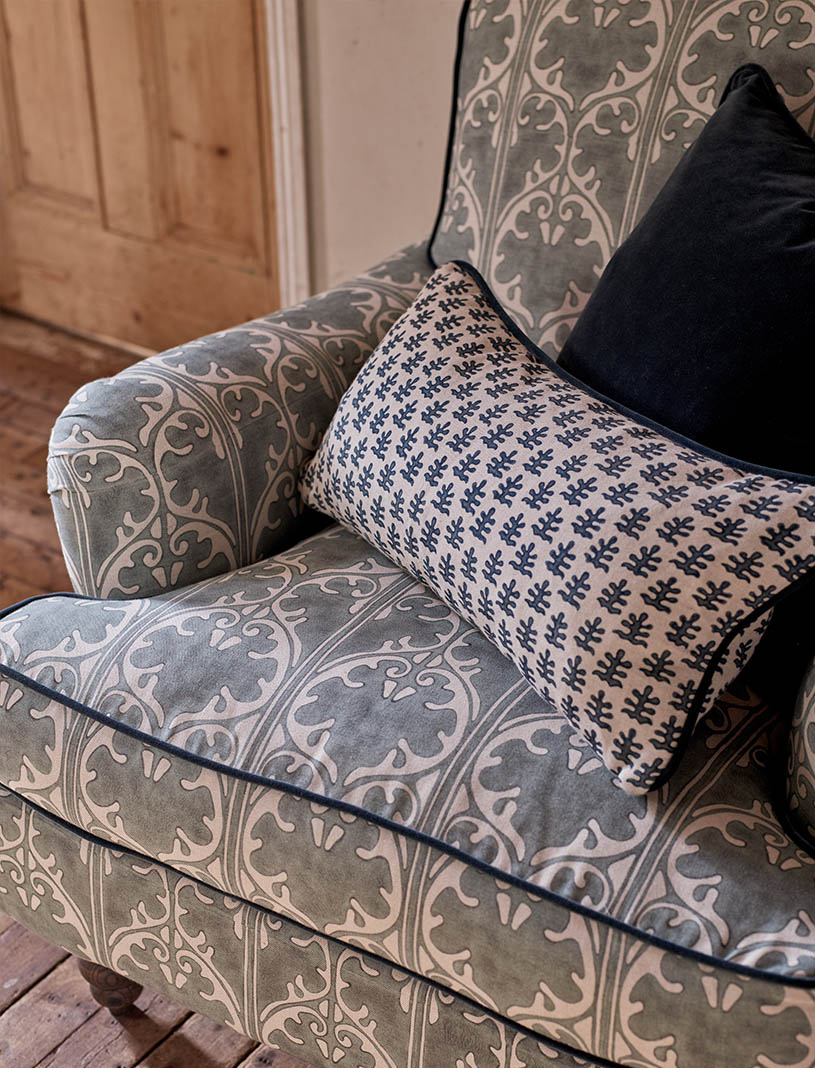 The Tobias and The Angel Coral Cushion with piping, Squid Ink on the Florence Armchair in Tobias and The Angel Wave, Soft Blue
Be Inspired
We hope you'll agree that this exceptional selection of prints will bring your home an aesthetic that you'll love. Every colourway aligns with our current collection to enable an ease of layering and styling - we can't wait to see our Tobias & The Angel collection in your home.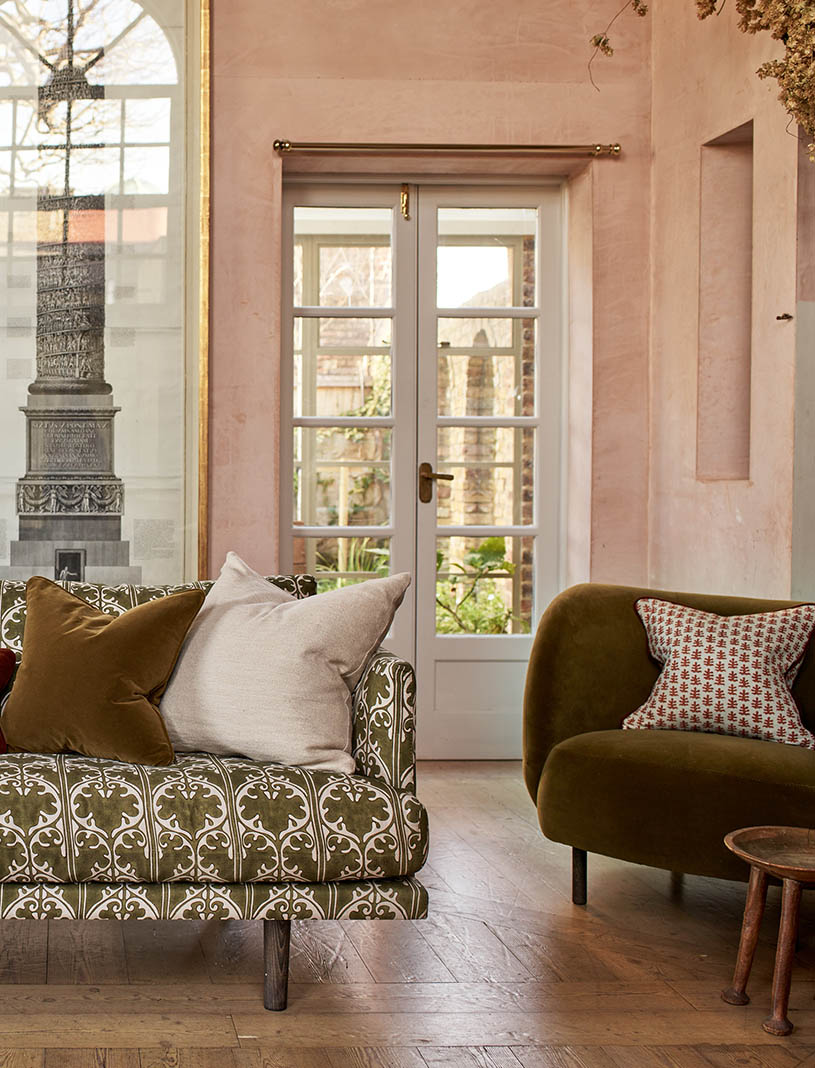 Ottilie Sofa in Tobias and The Angel Wave, Olive. Hepworth Armchair in Studio Rich Stain Resistant Velvet, Olive. Tobias and The Angel Coral Cushion, Garnet

Images from: Emma Lee Photography