The founder of Pukka Print, Juliet Cornell, discusses the process she's gone through to create her beautifull range of hand printed, indian inspired prints.
Ten years ago we moved from Hampshire to Bombay – I had never lived abroad before but saw this two-year stint overseas as a real opportunity to establish my second career. I had turned 40, our four children were all school age, so I really wanted to explore the idea of setting up a textile company focused on block printing linen for the home. I had gone to art school but focused on fashion design and then had a fantastic career in PR, so this helped my business approach as it wasn't exclusively design led but brand led too.
Within weeks I took a flight up to Jaipur and started working out how on earth I was going to set this madcap idea up. I visited various studios but recognised I had struck gold when I met Gitto. Her credentials and experience were so impressive, and she was doing me an honour even countenancing taking on this woman with bags of enthusiasm but no track record! Fast forward two years later and we launched the first PUKKA PRINT collection at Tissus d' Helene, Chelsea Harbour. I always compared my journey to running in the Grand National and at this stage I felt I was under starters orders.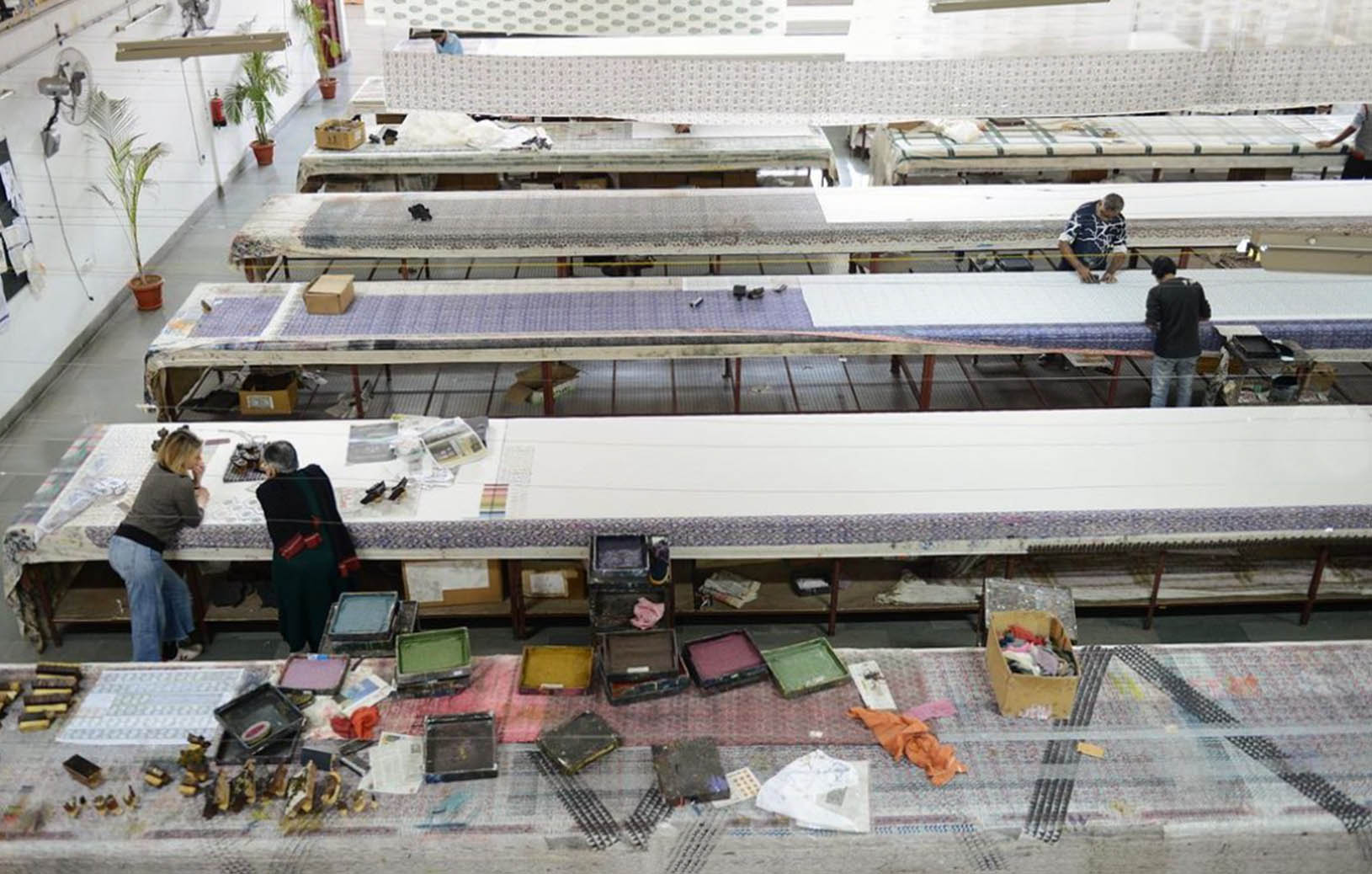 We have now launched ten collections and have distribution in Europe, USA and Australia. The collaboration with Love Your Home was another landmark for me and I'm still tickled when I see our fabrics in the press ads of the Sunday supplements and Homes & Gardens. All the Pukka Print patterns are inspired by Indian, usually Moghul, motifs. I spend a lot of time at the V&A photographing and sketching ideas from rugs, carpets, ceramics, furniture and of course the palampores. I cannot claim to be original when I say the colour palette is entirely influenced by the English countryside and what I use at home. Eric Ravillious is one of my favourite artists and I take books of his work out to Jaipur to show the team there, along with paint charts from the Paint and Paper Library, Edward Bulmer and Farrow and Ball.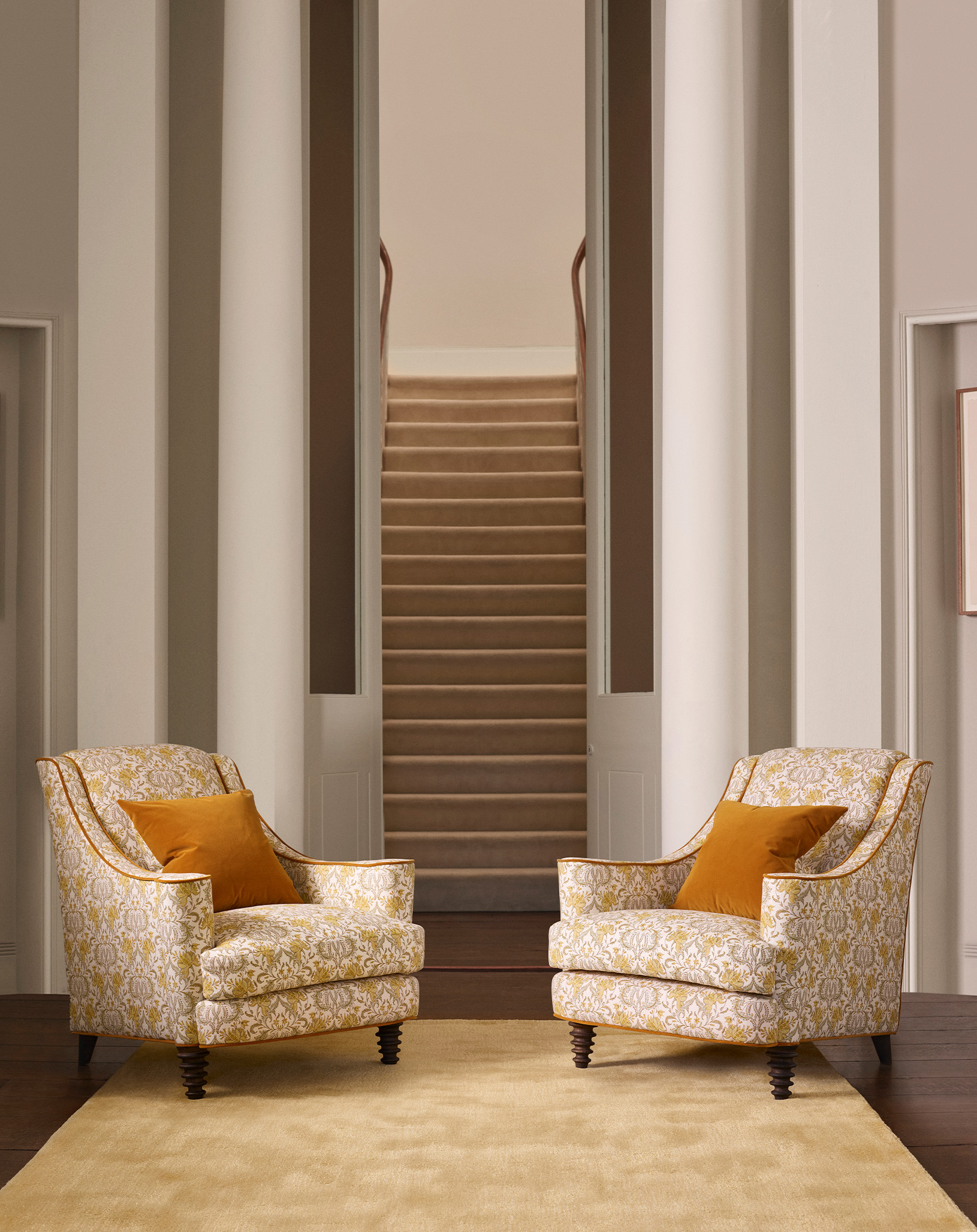 The Virginia Patterned Armchair in Pukka Print 'Acanthus'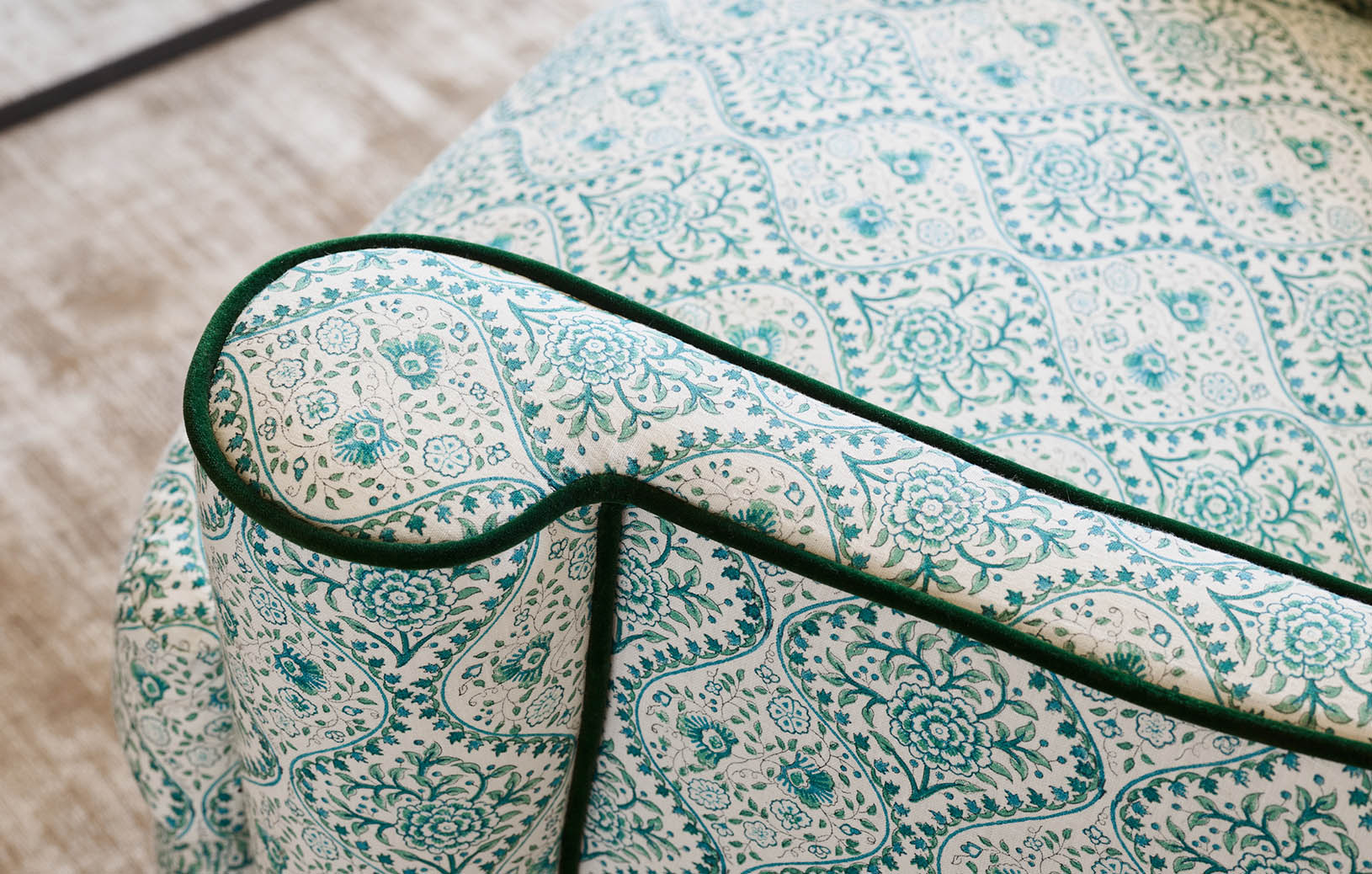 The Virginia Patterned Armchair in Pukka Print 'Ogee'
Each collection takes two trips – the first trip I take reams of A3 layouts of repeat patterns I've made on the dining table. Gitto and I and the block carver take time to work out the scale, the number of colours and therefore blocks and the repeats. The second trip is for colour sampling – Ill have thought this through intensely but it still surprises me how we adapt the palettes during the week. I try and go in November and February as the weather here is so rubbish and I don't feel like I'm missing out too much. We source the linen in India from a local wholesaler.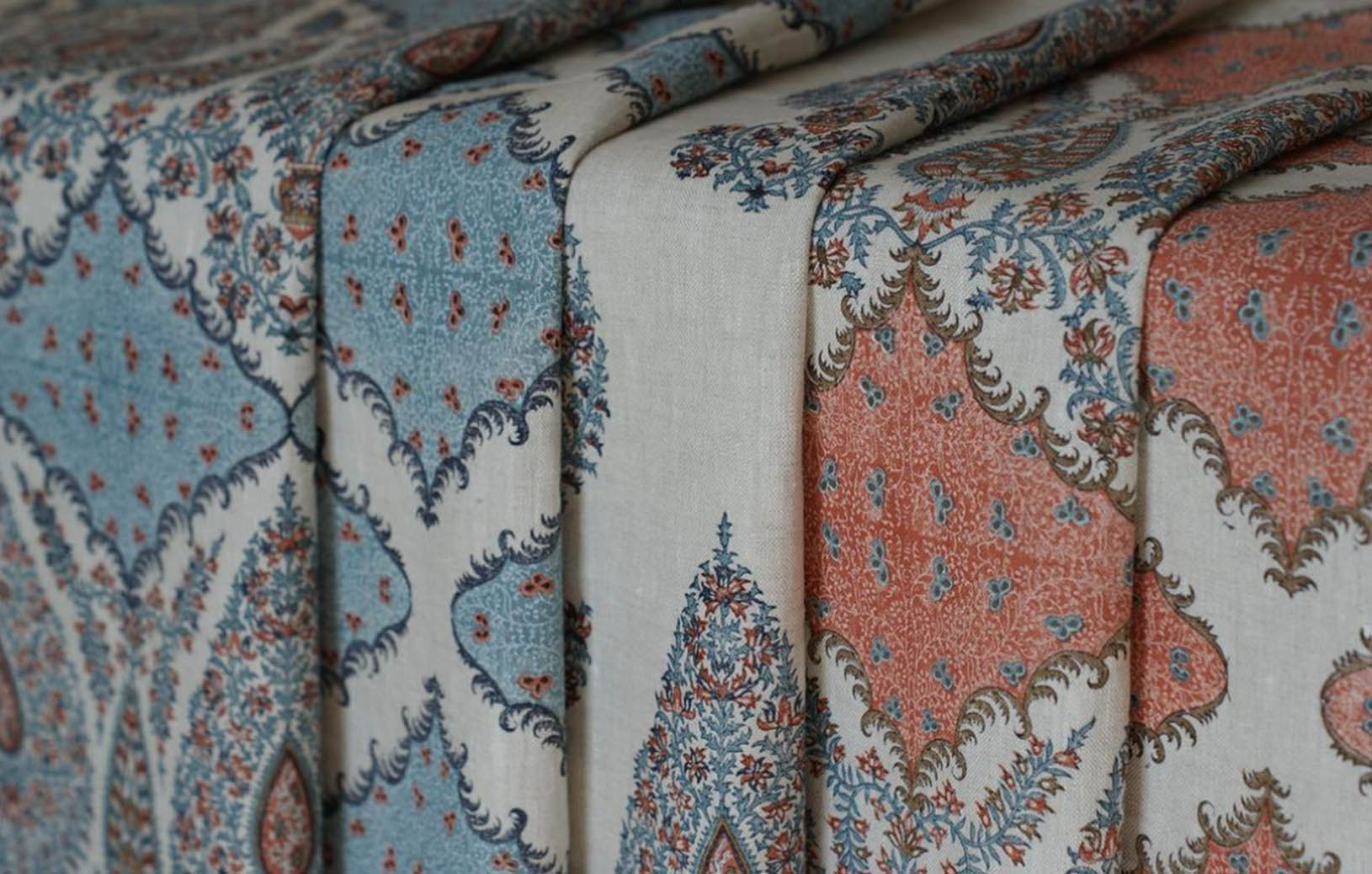 For me Pukka Print helps makes sense of my time living abroad, I was able to dive deeply into many worlds on the back of block printing and I sense design, travel and collaborating are now so intrinsic to my make up I shall always hope to evolve these traits. We are a very small business still in the race, surviving many hurdles but the odds are looking good.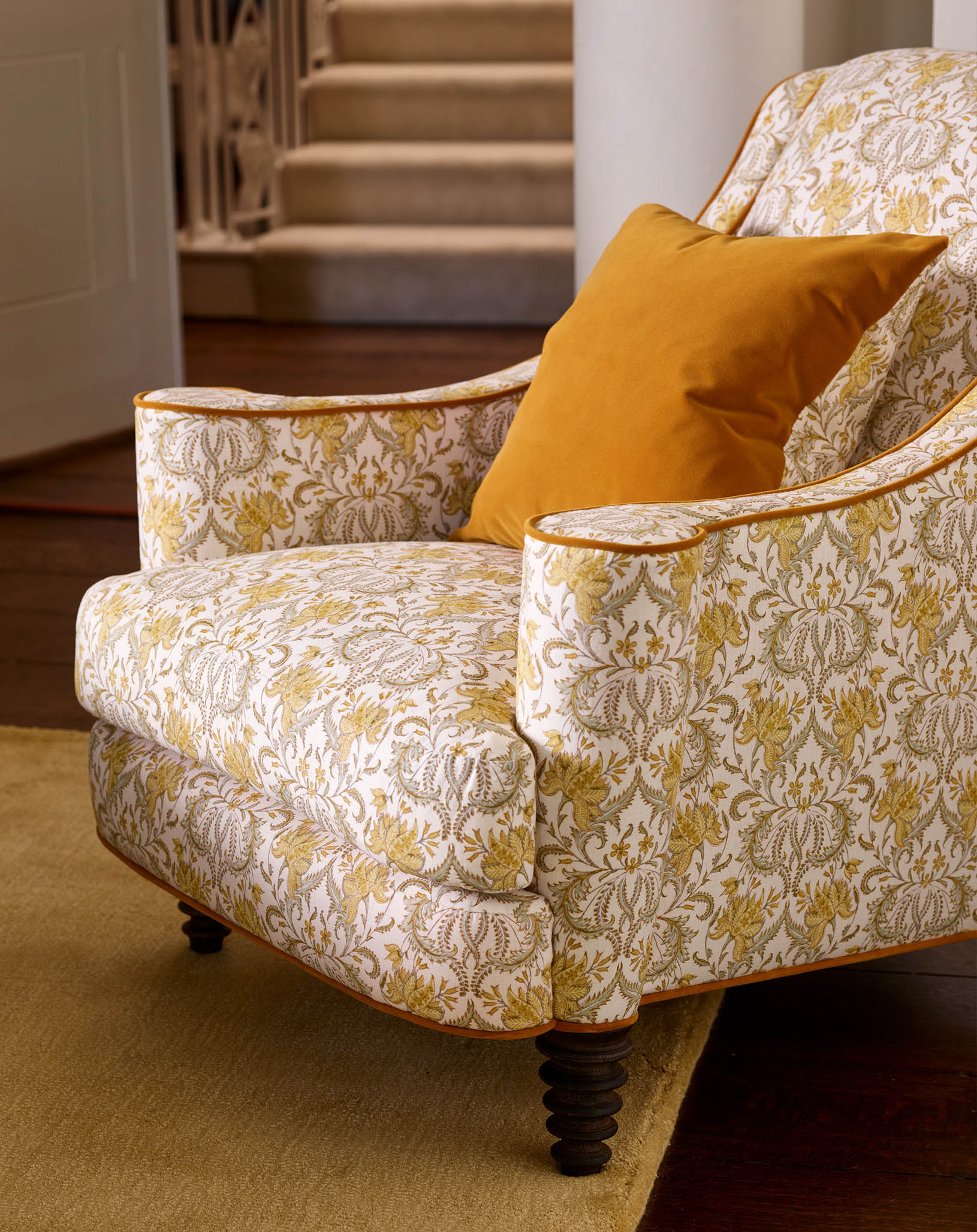 The Virginia Patterned Armchair in Pukka Print 'Acanthus'
Images from: pukkaprintlinen.com, instagram.com/pukkaprint/