Now that many of us have worked from home, it's become clear how important it is to create a study space that works practically for the everyday, while also being a beautiful part of the rest of our home. If you're looking for some working from home inspiration and office decoration ideas for work, just take a look at the brilliant transformation Vivienne Cutler has undertaken, swapping her unloved snug for an all important home study. Vivienne, who shares the entire renovation of her Victorian Cottage on her Instagram, talks to us about the steps she's taken creating this room and gives us some great home workspace ideas to incorporate in our own home working spaces
Lots of us will have experienced working from home during the current pandemic. For me personally after spending the first few months of 2020 working from my kitchen island I decided to turn our very unloved snug into a home office so that I could make my working day more comfortable and have the added luxury of having a separate space away from the main living areas that was quiet and somewhere I could concentrate fully without the myriad of interruptions from family life during lockdown.
The first thing I decided on was the overall look and feel I wanted to create and this helped with all the following work from home office ideas. It was important to me that my study was stylish but functional too and somewhere I'd want to spend my working day. My first purchase was an eBay find Victorian desk which really set the tone for the whole work from home room design. I decided early on that I wanted the overall look to be traditional in keeping with the style of my period cottage but with a little bit of girly glam thrown in to the  the work room ideas as this was going to be a space just for me.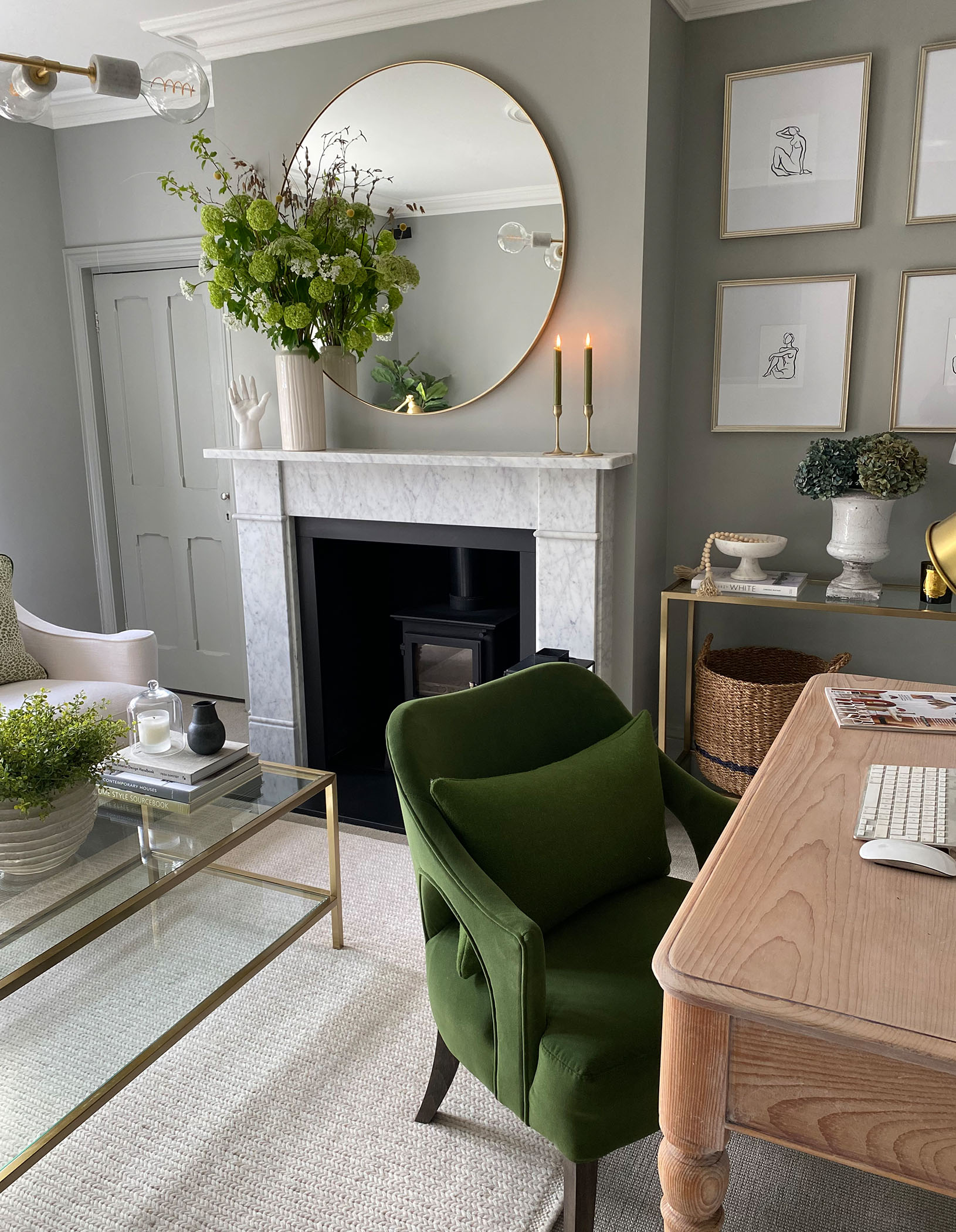 Next up was choosing the new seating. The old room had housed two beautiful but rarely used sofas which were crammed into the space! In order to create the feeling of more space I decided to swap these in favour of a pair of comfy armchairs. I worked with the amazing Love Your Home team to pick out the new furniture and fabrics that would work well with my work from home office design. They were literally so knowledgeable about everything which really helped in the decision making process when deciding on the work office ideas for my home. In the end I decided on the Virginia armchairs which were designed in collaboration with Homes & Gardens magazine and were created to have the look and feel of a reupholstered vintage classic. The chairs were just the right mix of traditional elegance and sophistication that I was looking for. From the beautiful turned feet which I chose in a dark oak stain through to the elegant scroll arms every feature was just stunning and when paired with the gorgeous vintage linen salt fabric it provided just the right amount of texture to really set the chairs off.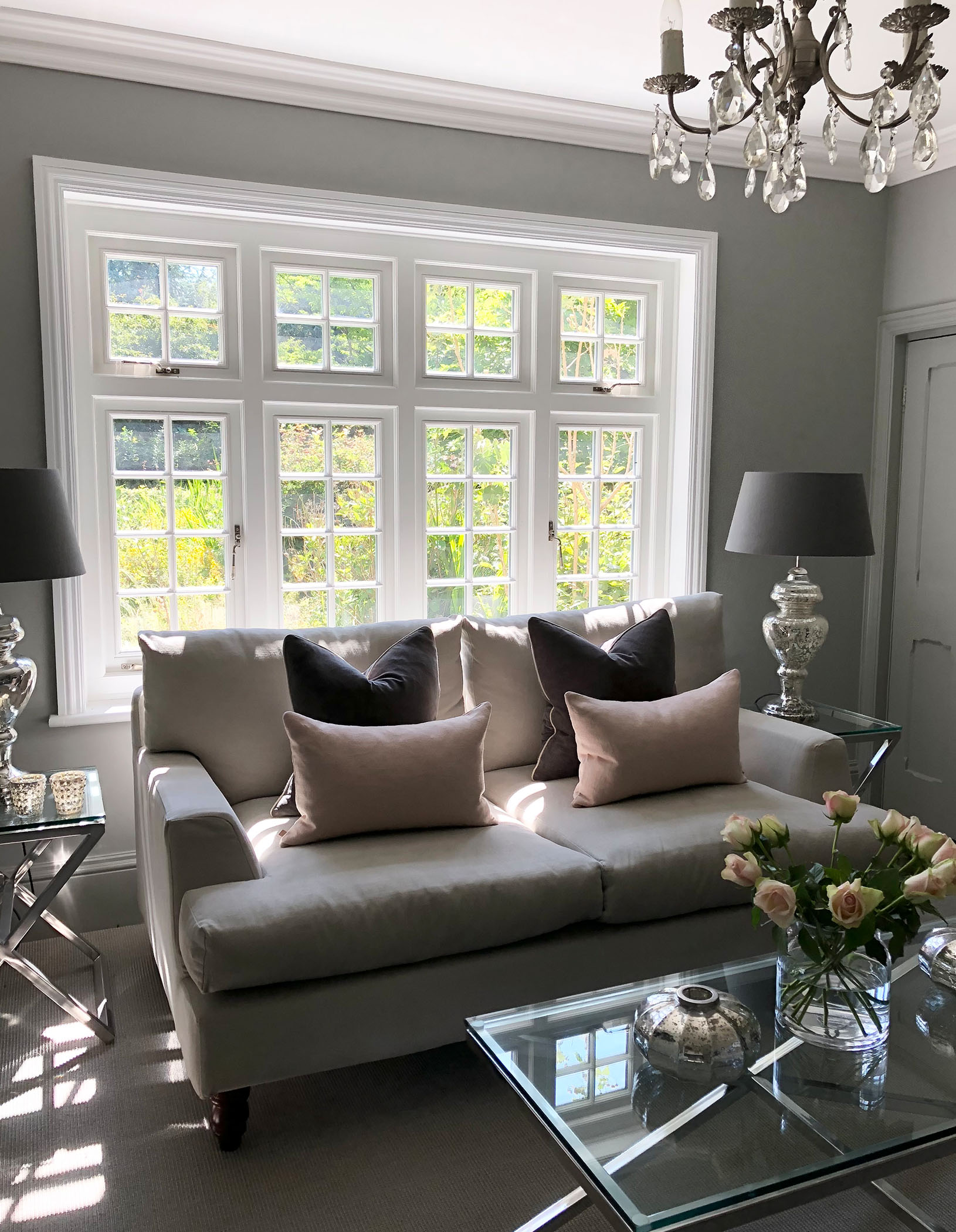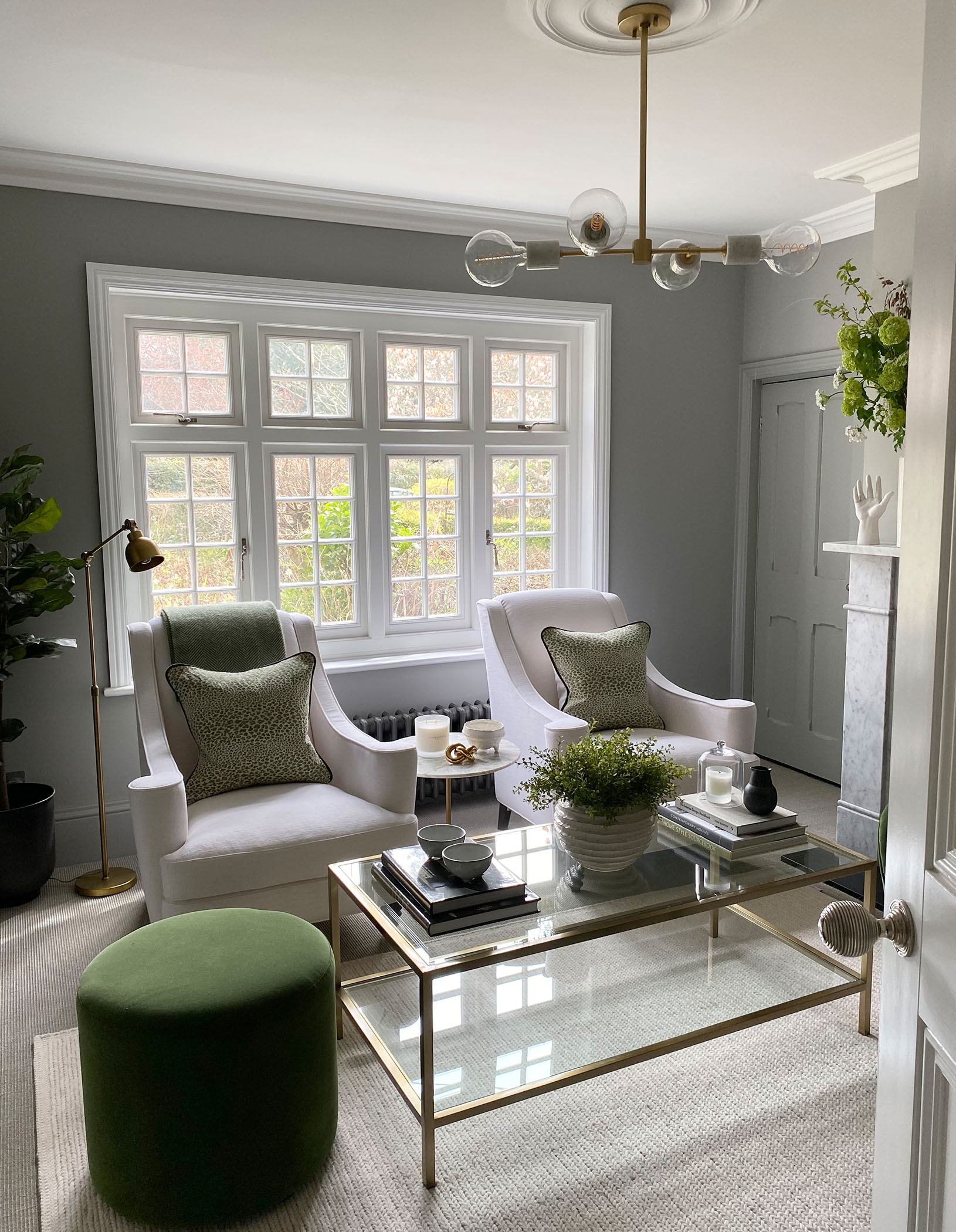 Now that I had chosen the formal seating the next job was to choose a suitable chair to pair with my desk. I had spotted the Madison armchair in the showroom the first time I visited and fell in love with its beautiful shape immediately. To act as a contrast to the white linen armchairs I chose a stunning stain resistant Leaf green velvet. The white and green is such a lovely fresh combination and I knew it would look amazing against the Farrow & Ball Lamp Room Grey walls. To tie the fabric choices together I decided to add the Vivienne footstool in the same leaf green velvet as this can also be used as additional seating if needed or as a place to pop your feet up when relaxing. Finally for the finishing touch and to add a pop of print I added a pair of cushions for the armchairs in a custom Nina Campbell Bagatelle weave print fabric which perfectly picked out the white and green colour scheme. These were then backed with the same vintage salt linen fabric as the armchairs and then piped with the same leaf green velvet as the desk chair. The combination of furniture and fabrics just looked incredible together and added the perfect hint of glam to an otherwise very traditional scheme.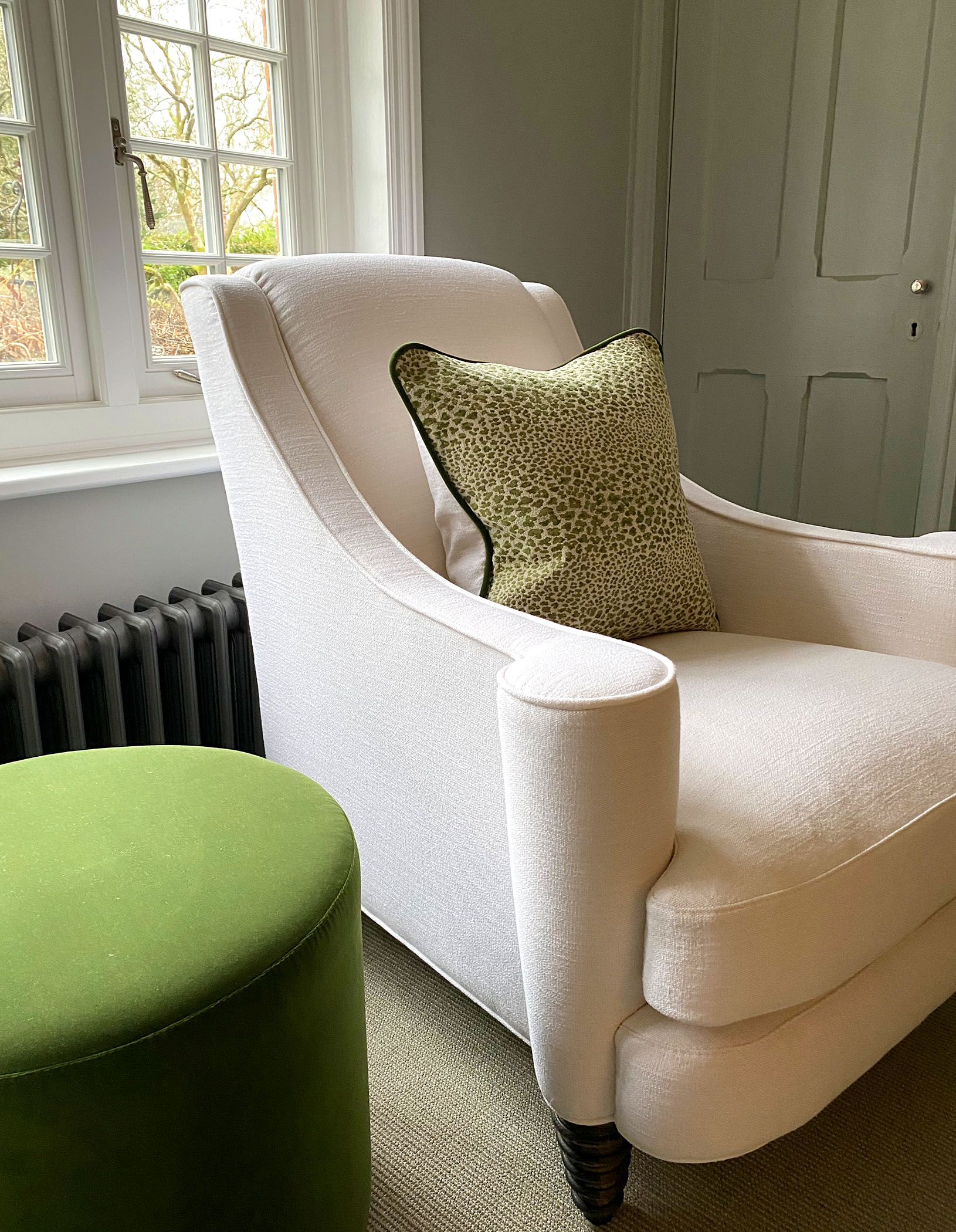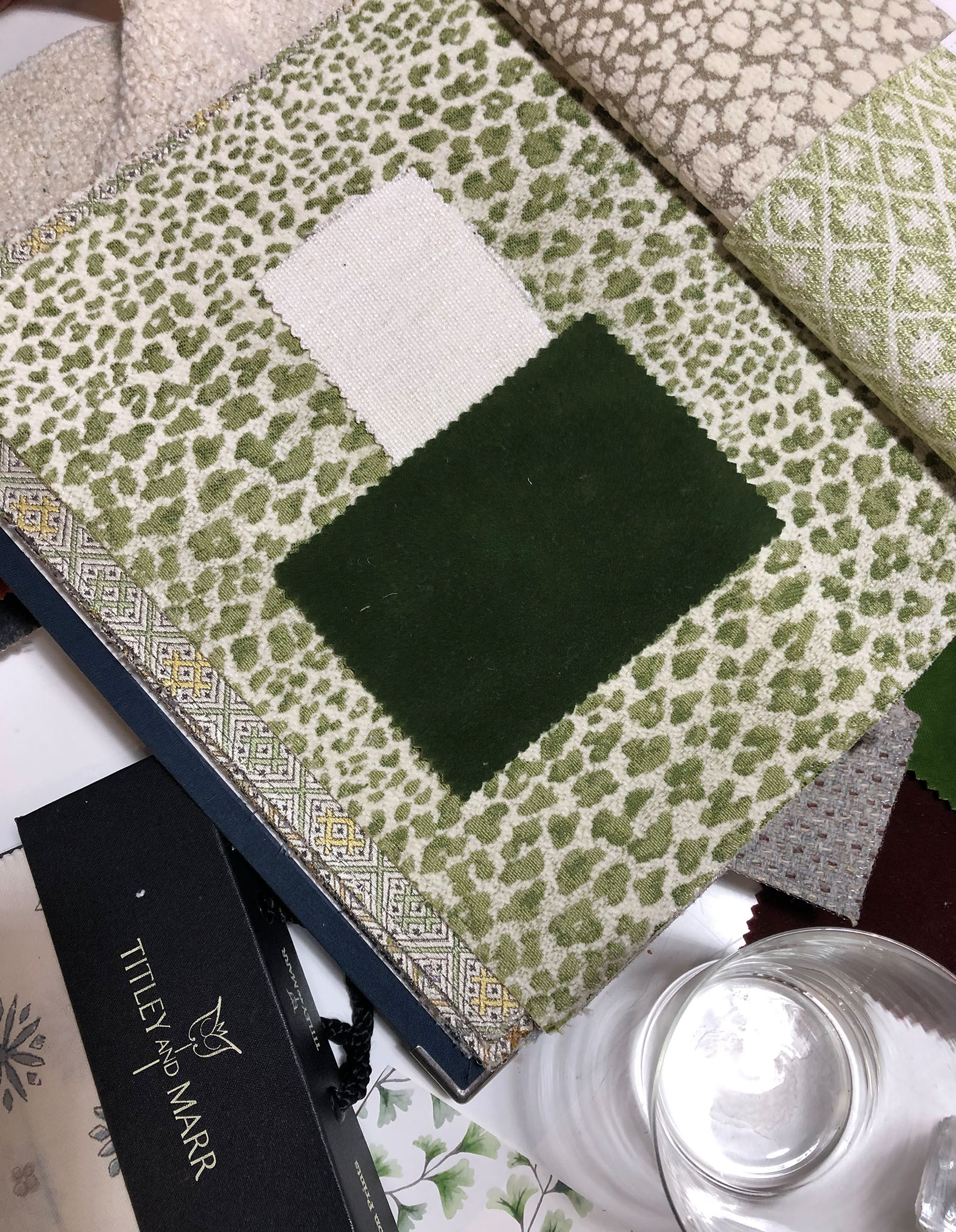 Once I had these choices pinned down I decided to add brass accents to the room as I felt it worked so well with the traditional look I was going for but also highlighted the beautiful leaf green velvet I had chosen and I really felt it would elevate the whole look of the room and add to the overall elegance. It also worked really well with the beautiful Carrara marble fireplace that was already in the room. A huge brass circular mirror was added above the fireplace adding a much needed focal point and a statement chandelier was added to compliment these choices. Traditional style floor and desk lamps were added in brass with an additional lamp base and shade chosen to light up a dark corner of the room and add a homely feel. I also chose artwork that picked up on the brass accents and mixed this with a more traditional piece above the desk.
This project is great if you looking for some inspiration for small office ideas for work at home. The layout of the room was quite restricted due to the small floor area, huge window and placement of the door none of which were factors I could change! In an ideal world I would always place a desk so that it faced out of the window especially where there are beautiful views to be had. However it just wasn't possible here as it would have resulted in the chairs being squashed tightly together behind the door which really wasn't ideal as I wanted them to be the star of the show! In the end I think I chose the best layout and by removing the old shelving in the alcove it meant I was able to fit in a beautiful console table to display some of my favourite artwork and accessories. I was also able to comfortably fit in a coffee table and side table which are both great additions as they act as a place to put drinks, books, etc. but can also be styled to suit. It also means that this room can be used in the evenings as a space to read or watch TV (our is carefully sunken in the wall where no one sees it) so it really is a multifunctional space and the best of both worlds.
It is such a wonderful light space and works year round. I'm lucky enough to have a log burner in here so it's wonderful to come in here and light the fire during the cold winter months as it's super cosy and inviting. Equally during the Spring and Summer months when the cottage garden is coming into bloom its the perfect spot to enjoy a morning coffee. It's literally my dream space and I definitely have no regrets about changing its use. It's gone from a very unused unloved space to somewhere I enjoy working every day!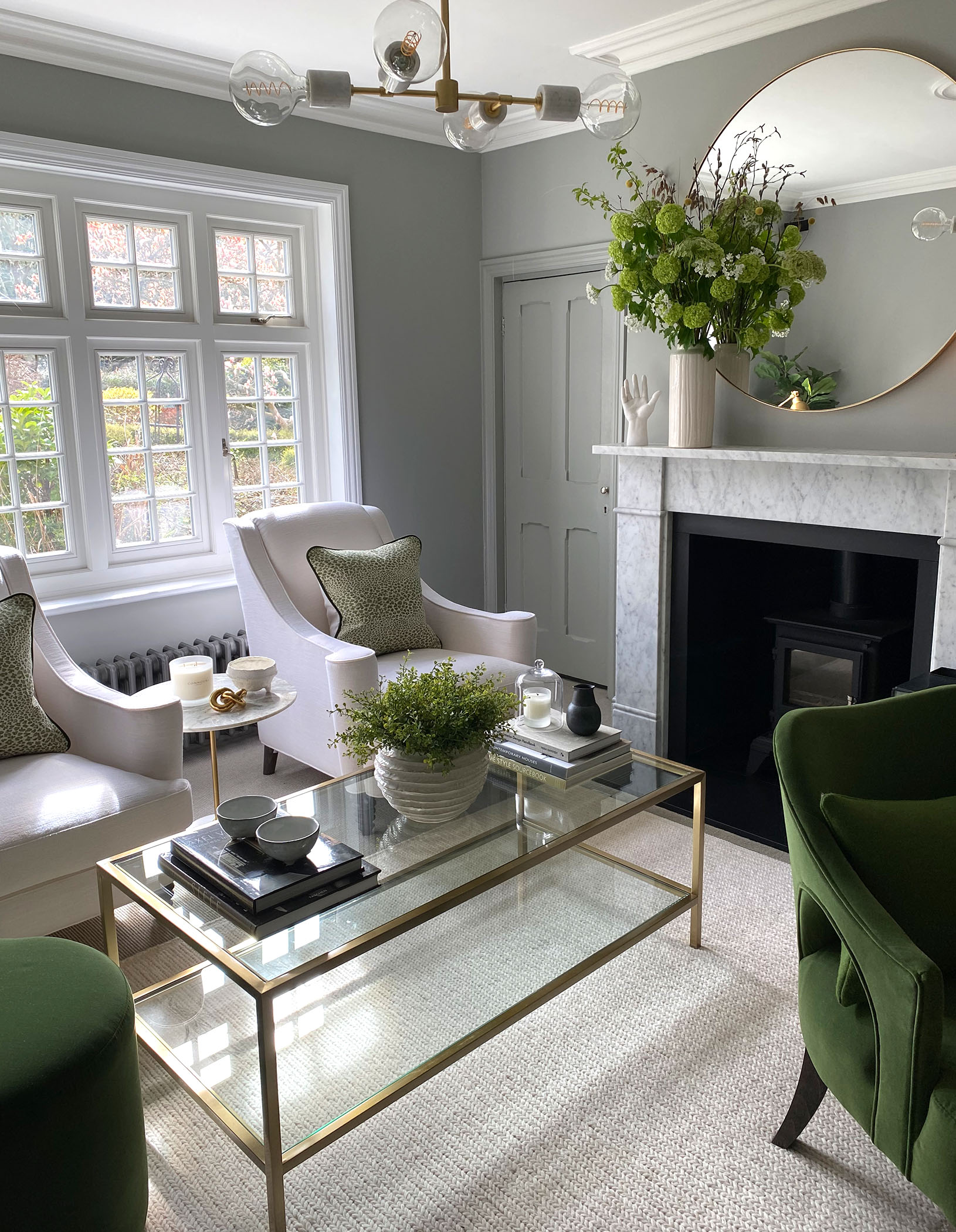 - Vivienne Cutler