Almost a year ago, our homes transformed - into offices, gyms, classrooms, sanctuaries, and full-time living spaces - practically overnight. From storage beds to 'work zones' - here's 6 easy ways to cultivate calmer, multi-functional interiors this lockdown, including some modern office design ideas.
Before we could plan ahead, we were homeschooling from our breakfast tables, holding Zoom meetings from our living room sofas, and turning our spare rooms into makeshift yoga studios.
Working from home has had its perks. Saying goodbye to gruelling rush hour traffic - many of us welcomed lazier mornings and coffee-on-demand. Benefitting from a little more flexibility in our work schedules, we've had the opportunity to enjoy our living spaces and spend quality time with close family.
Nonetheless, it's been a challenge (to say the least!). With laptops finding homes on our coffee tables and relentless noise distractions - creating separation between work and play has been tough. Maintaining calm, tidy and practical environments - which fulfil all of our needs - hasn't been easy.
So, how can we cultivate more ordered and multifunctional living spaces?
From storage beds to 'work zones' - here's 6 easy ways and some home office ideas to make your interior work for you - without compromising elegant design of course.
1) Store More, Spread Less
There's nothing more stressful than trying to concentrate in a messy bedroom, or workout on a carpet littered with toys.
But storage beds are the ideal solution! Helping you minimize mess, organize belongings and create room for exercise machines, homework desks and yoga mats, they're perfect for cultivating more comfortable, multifunctional bedrooms. We're spending more time in our rooms than ever before - there's no better time to invest in practical, quality bedroom furniture.
The Charlotte and Sophie Beds are functional, yet stylish options. With their clean, straight lines, these modern storage beds will slip effortlessly into any home – modern or retro, formal or casual. Their compact, slim frames offer maximum storage for the smallest footprint - helping you keep your floor tidy, whilst maintaining that minimalist look we all love.
Sophie Storage Bed, from @studioogee
Charlotte Studded Headboard Storage Bed
2) Designate 'Work Zones'
Designating rooms or corners of your home to work, and others to relaxation, is a great way to create mental separation - helping you get into the right headspace more easily.
This could be as simple as keeping your living room a laptop-free zone, or dedicating a chair or desk to work-related activities.
The Madison Armchair is the perfect desk chair for home working to add to your modern home office ideas. With her slight, shapely arms and petite curvaceous legs, this elegant piece is delicate yet supportive. With it's deep, soft seat, the Madison's graceful design certainly doesn't compromise comfort!
Madison Armchair, from @viviennecutler
Madison Armchair, from @loveyourhomeuk
3) Downsize and Simplify
Versatile, space-efficient furniture is an effective way to simplify and multi-purpose your living spaces. In particular, replacing old beds with sofa beds could maximize bedroom floor space and enable your lounge to double up as a sleeping quarters for extra family members.
With a deep cushion and graceful arms, the Sophie is our personal favourite! This stunning sofa bed has a tiny footprint - despite folding into a fully-functional double bed. Available in over 100 different fabrics and colours, made to measure - you'll have no problem getting it to blend into your existing interior. The loose cover is easily popped in the wash, and with added Guardsman protection, it'll be safe from spills and stains.
4) Maximize & Organize Surfaces
Ensuring there's plenty of table, desk and bookshelf space for all those extra school textbooks, work folders, novels and board games will minimize mess - essential for you and your family's mental wellbeing. Allocating surfaces to specific activities or family members will help keep things in order too.
Our Boundary Coffee Table will give your living room a modern, rustic charm, whilst providing a multifunctional surface for coffee, books or homework sessions! With its sturdy metal frame and concrete-look top, this robust yet stylish table would be a stunning and versatile addition to any home.
5) Declutter for Peace of Mind
Though easier said than done, nurturing a tidy home is essential for working effectively and maintaining harmonious family dynamics. Removing clutter will help you cultivate a calmer frame of mind too - something we could all do with right now!
Storage footstools like our Winston, are a elegant way to de-clutter and adapt your living spaces. Ideal for storing toys and games, it can quickly transform playspaces into glamorous living rooms! Available in bespoke sizing, this gorgeous piece will accommodate anything, from cosy blankets to lego, and is the perfect footrest for soothing worn out legs!
Winston Storage Ottoman, from @ginaandinteriors
6) Double-up Your Dining Space
Either side of mealtimes, dining spaces are ideal places to set the kids up with schoolwork or craft activities, spread out your work files, or unwind with a cup of tea!
Combining flexibility, comfort and style, the Felicity Dining Chair is ideal for eating, working and relaxing. With removable covers, this beautifully crafted, durable design is family friendly too. The Madison Chairs are another elegant option around the dining table, and practical to, coming in all our stain resistant fabrics.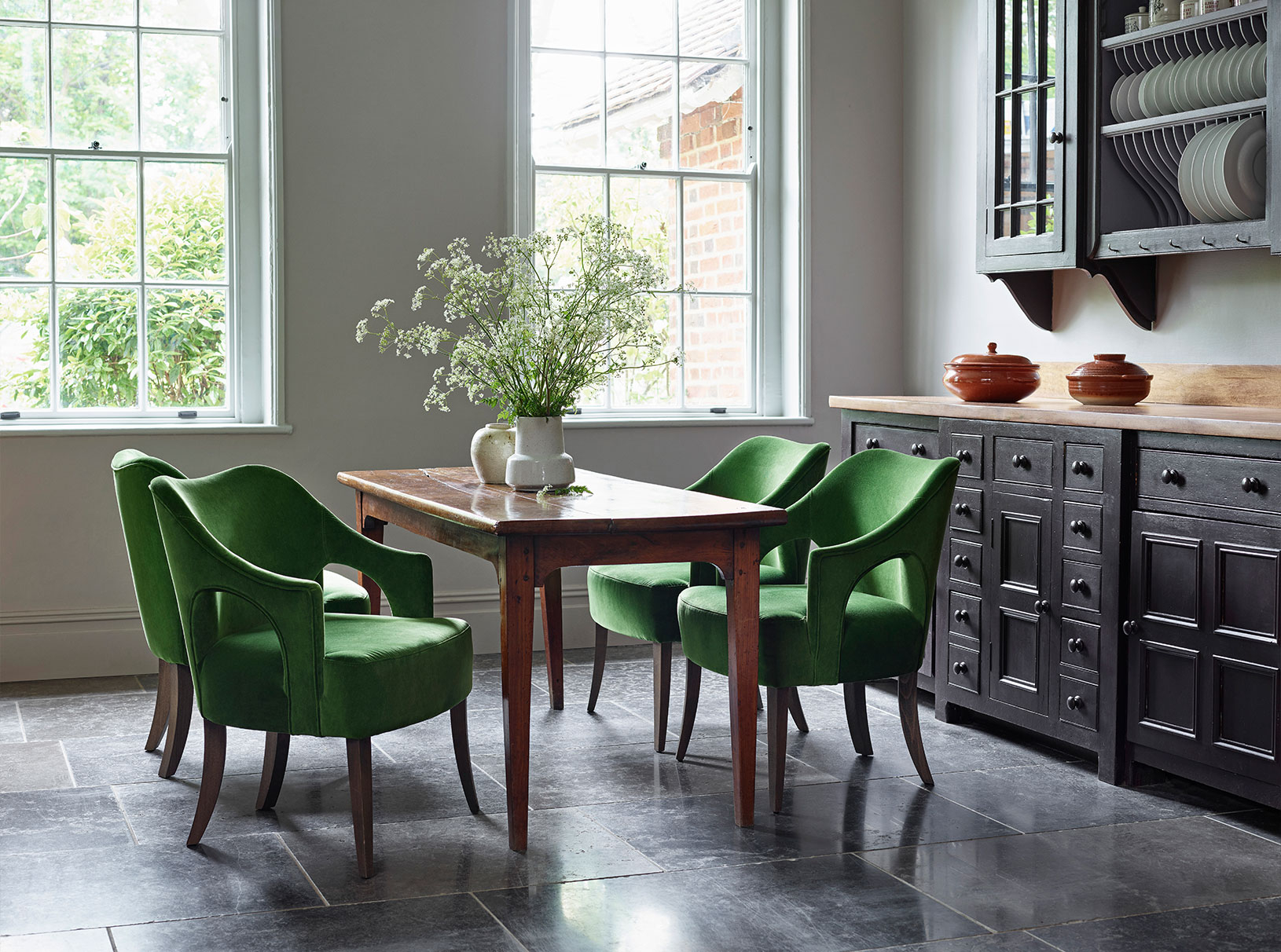 We've all worked hard to adjust to some extremely difficult circumstances over the past eleven months - our furniture should too. We hope these 6 tips and suggestions help you create calmer, more organized and versatile interiors this spring! Afterall, who says a stool must just be a stool, and a bed must just be a bed?