You'll probably know by now that all things velvet make for a wonderfully on-trend and seriously luxurious home. But what about going one step further, with our new and improved 100% kid mohair velvet? This gorgeous fabric has its own set of unique properties (more on that later) and it brings an instantly relaxed yet put-together aesthetic on any sofa or armchair throughout your home.
So, whether you're looking to invest in a new kid mohair velvet sofa in any one of our beautiful colourways or are ready to reupholster an existing piece that needs a little love, let's look at the unique and exciting properties of 100% kid mohair velvet.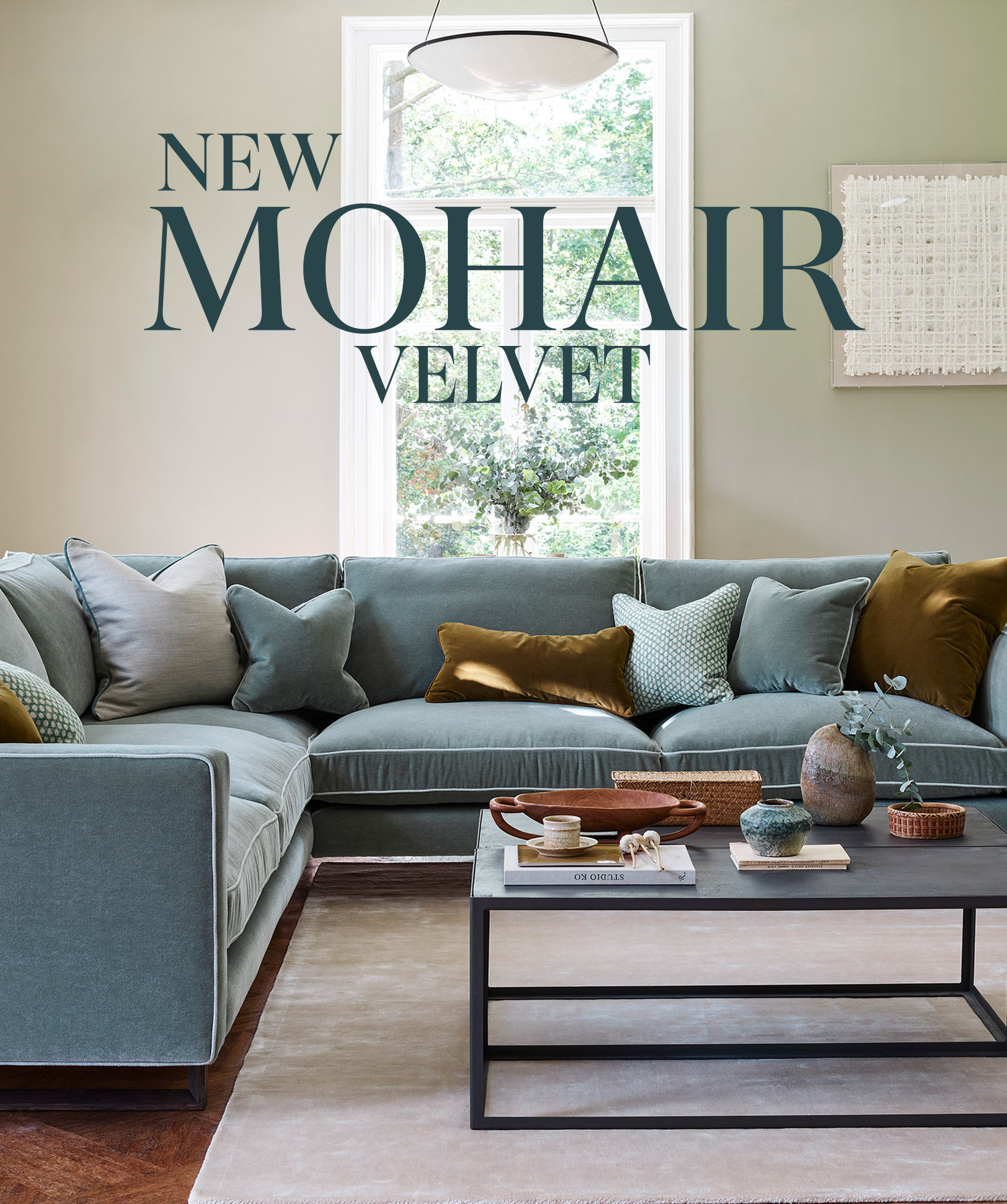 Durability Wins
Buying or reupholstering a sofa is a big investment, so we want to make sure that you're getting the absolute most out of our products. Kid mohair velvet is an especially popular material because it's built to last and is incredibly durable. Because of its thick pile, the nature of the fabric means that it doesn't pill or wrinkle as much as other materials so you can rest assured that it will continue to look beautifully fresh as time goes on.

The Noah Armchairs in new velvet Mohair Velvet 'Blossom'
It Feels Luxurious
There's no denying that any piece of furniture in any kind of velvet material feels luxurious. But what makes kid mohair velvet even more outstanding is that it is completely free of any other synthetic fibres. This means that it feels more supple and more opulent than almost anything else. Its natural shine and luster ensure that it will never look dull, so you and your guests can sink into its stunning softness as you while away the hours.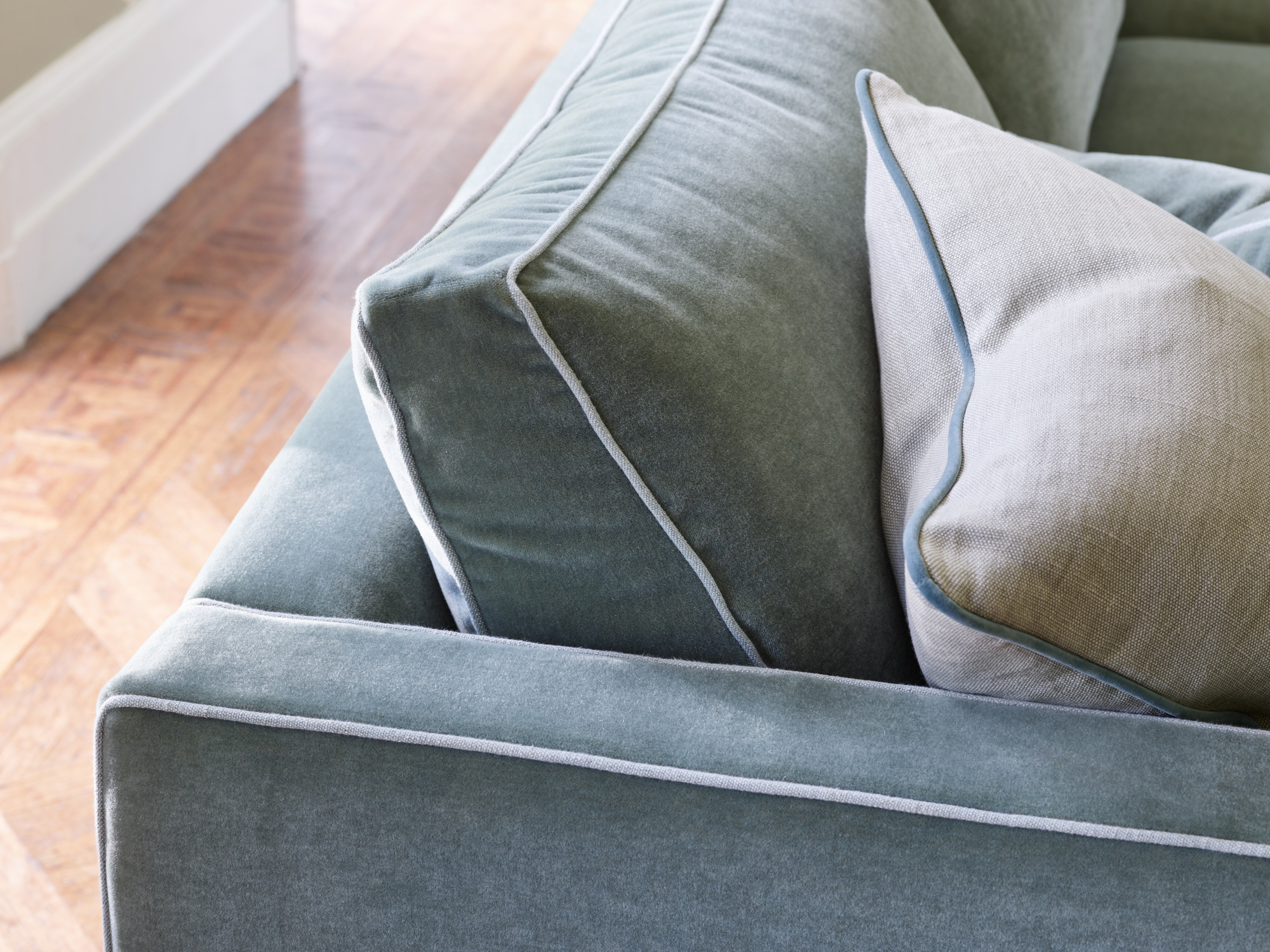 The Byron Symmetrical Corner Sofa in new Mohair Velvet 'Sage'
It Works With Vibrant Colours
Another trend that we absolutely love is the one of bright and vibrant colours being weaved into homes all over the world. Not only does this add a point of difference to your home, it's also a wonderful way to add character and playfulness. Another unique difference about kid mohair velvet is that it dyes exceedingly well, meaning that these stunningly vibrant colours work particularly well in this material.
And as well as the original 6 colourways we offer, we're pleased to announce that for this new and improved range of kid mohair velvet materials, we've developed three new colours: Topaz, Midnight and Bluebird. Topaz is a gorgeous golden, brassy hue that adds instant luxury to any room, Midnight a richy, inky navy and Bluebird is a soft blue tone that'll work well with what you already have at home. These are now available to order - just in time for winter opulence.
And so, whether you're looking to refresh some pre-existing furniture by upholstering in kid mohair velvet or are in the market for something brand new in this stunningly unique fabric, we hope that you've found this blog helpful and informative. The Florence Sofa in new Mohair Velvet 'Marmalade'
Order Your Samples
There's no better way to experience these new fabrics than to see them in the context of your own home. Order up to 10 free samples, including our range of new Mohair Velvets here. The Florence Sofa in new Mohair Velvet 'Marmalade'