Linen is on trend right now but with its timeless elegance it will outlast the latest craze – it's a look that will last forever.
This natural fabric is durable, versatile and looks beautiful for a long time as it hardly pills and is very hardwearing. Using linen on furniture makes it tactile, but also gives a visual texture. Linens vary dramatically based on the warp and weft and also in the way they are treated after weaving. So whether you like a clean crisp look or a slubby rustic feel, linen is perfect for either.
Our customers are often nervous when it comes to linen, in particular, with light colours as they are concerned about the durability. But...as always we have thought of everything and have a beautiful family (and pet) friendly clever fabric that is stain resistant. So no excuse not to feel totally inspired by linen.....

Create cool summer looks using natural tones of linen with white crisp bed linen or chalky
Linens give lots of tonal depth to pastel palettes and provide a desirable backdrop to accessorising with pretty patterned or soft textural mohair cushions and neutral rugs.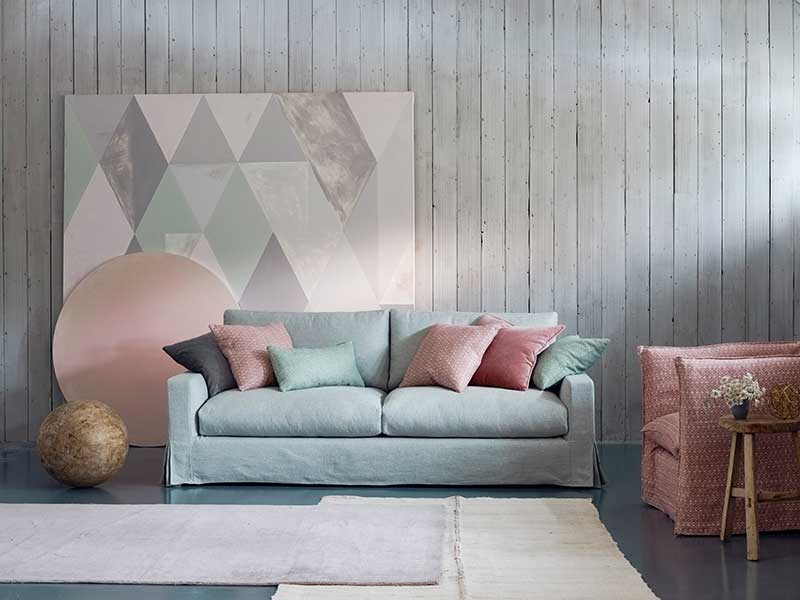 Consider our Stain Resistant Linens for neutral coloured linens in high traffic areas as they have the ability to resist spills from the odd glass of wine. Our loose cover designs also make it easy to just pop into the washing machine.