Playing it "safe" was often my fall-back position. I'd see homes in pictures and magazines but when it came to our own house would often worry that if I went for a certain style or colour, I might fall out of love with it. What we ended up with was a very bland space where things were fine, but the result didn't really reflect us. So, over the last couple of years, we've worked to add our style and character to our home so that whenever I walk into a room it makes me smile.
So, here are a couple things that helped us to add character to our home:
Paint
The easiest and most budget friendly change we've made is with paint. This can really help to add the warmth or tone you want. Deciding on a colour though is sometimes easier said than done. Magazines and Instagram are a great source of inspiration, if there's something you're drawn to that you keep coming back to then I would say go for it. The worst that can happen is that the colour isn't quite right, and you paint it again. Nothing ventured, nothing gained! Many paint brands make great suggestions for colour schemes so that's always a good place to start if you're not sure what goes with what.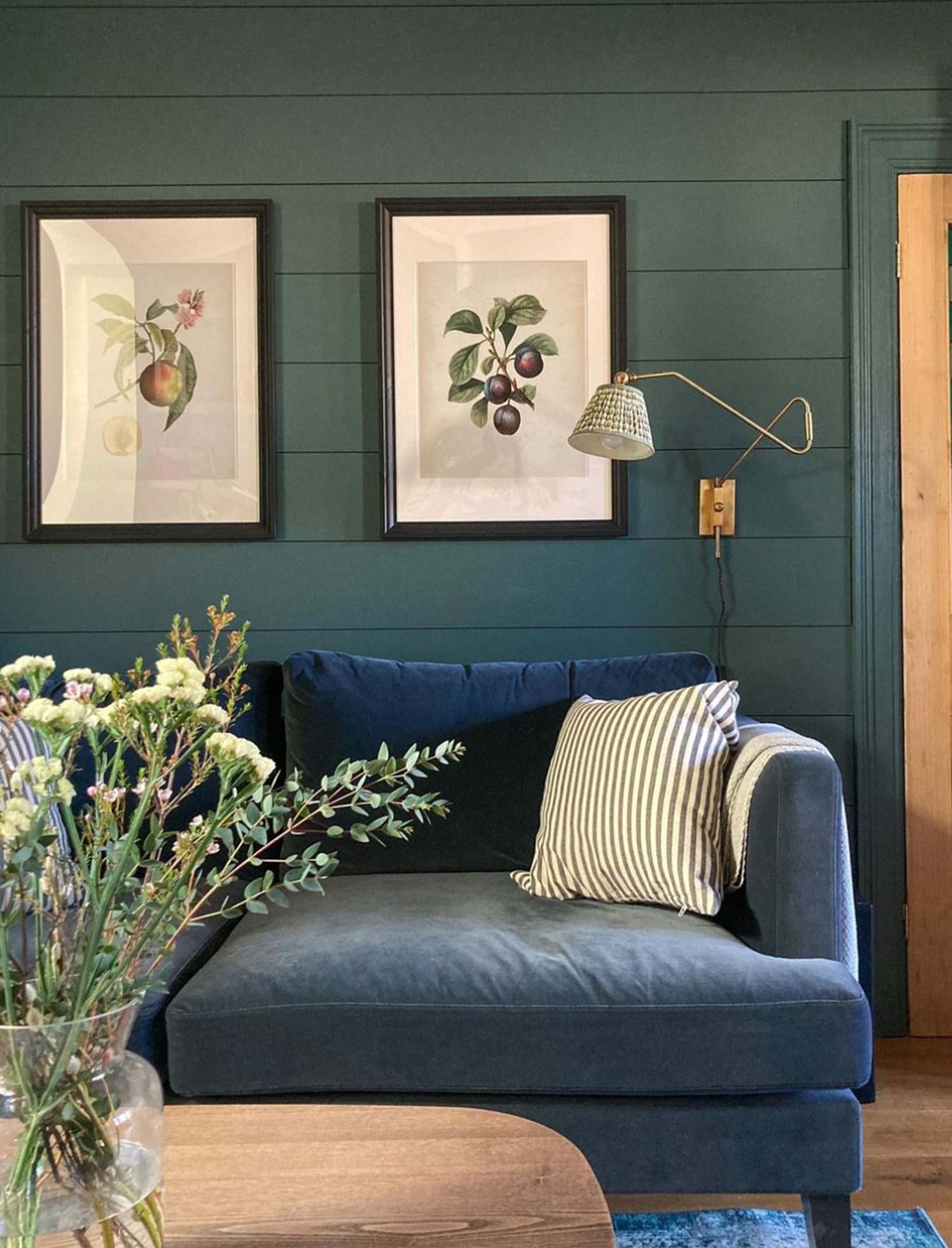 Marlon Sofa in Studio Rich Stain Resistant Velvet, Storm Blue
Panelling
Another way that we have added character to our house is through panelling and we have added quite a few styles to our home, and I love it. In our front room I've used a bead moulding to create panels, this gives a more formal feel to a room. In our snug, which by its name is supposed to feel cosy and relaxed, we have used a shiplap style. Panelling can be one of those love it or hate it things. I can't get enough of it and it really doesn't matter if years down the line I change my mind, I'm too busy enjoying it now. Also, why deprive yourself of the joy of something you love now because you might not like it in the future. Can you tell I'm a fan?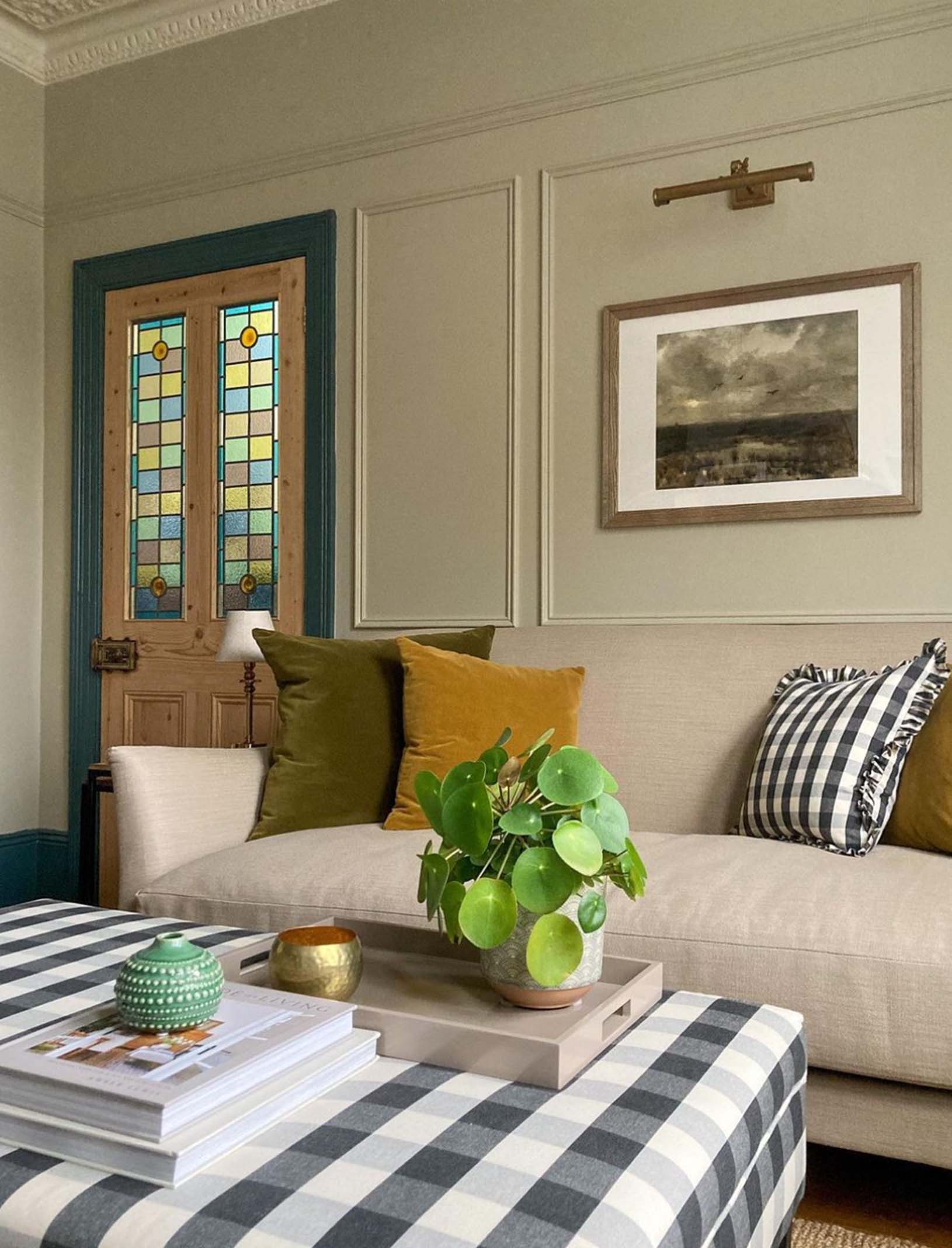 Bloomsbury sofa in Vinatge Pure Stain Resistant Linen, Olivesheen and Aubrey Footstool in Gingham Edit Black Check Large
Furniture
The biggest addition you can make to add character to your space is with the furniture. Having a mix of furniture is a great way to add character to a space. You can stick with neutrals if you're more comfortable with that, but picking different fabric finishes or style of chair adds that extra element that makes your place feel like your own. If you're feeling more adventurous then you can go for complementary fabrics/colours or you can go all out with a contrasting colour or fabric. The great thing about buying chairs and sofas from Love Your Home is that they have already a great selection of fabrics and colours which make it easy to find your perfect union.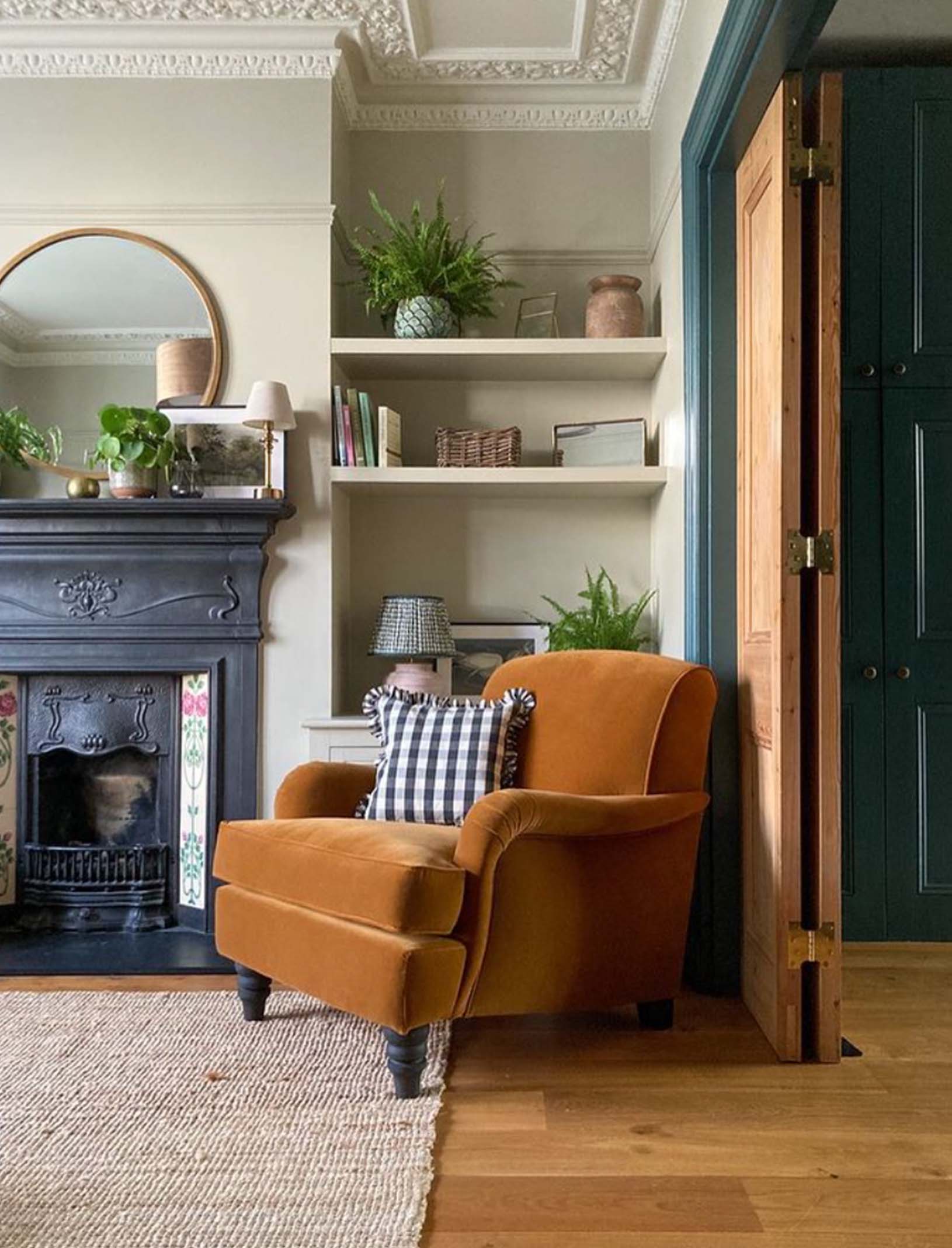 Eliza Armchair in Studio Rich Stain Resistant Velvet, Toffee
Gingham
We picked a couple of bolder items such as the gingham footstool and toffee coloured chair. Both are very classic in design but have a more modern twist with the choice of fabrics. Although we picked a more subtle colour for the Bloomsbury sofa, it is such a stunning piece. I adore the shape if the arms and the curved sides which make stunning in its own way. Altogether, the chair, sofa and footstool strike a balance and give us a modern classic look with a combination full of character.
If you're not ready to change out any of your furniture or just looking to finish a space then adding textures, lighting and art can also transform a room. I have found making a mood board helpful, digital or physical, where you can pull together images of all the elements you want to include. You can then get a sense of your overall scheme and decide if it needs an element added or even removed. So have some fun with your design and try out different things. And if you love something, don't feel that you always have to play "safe".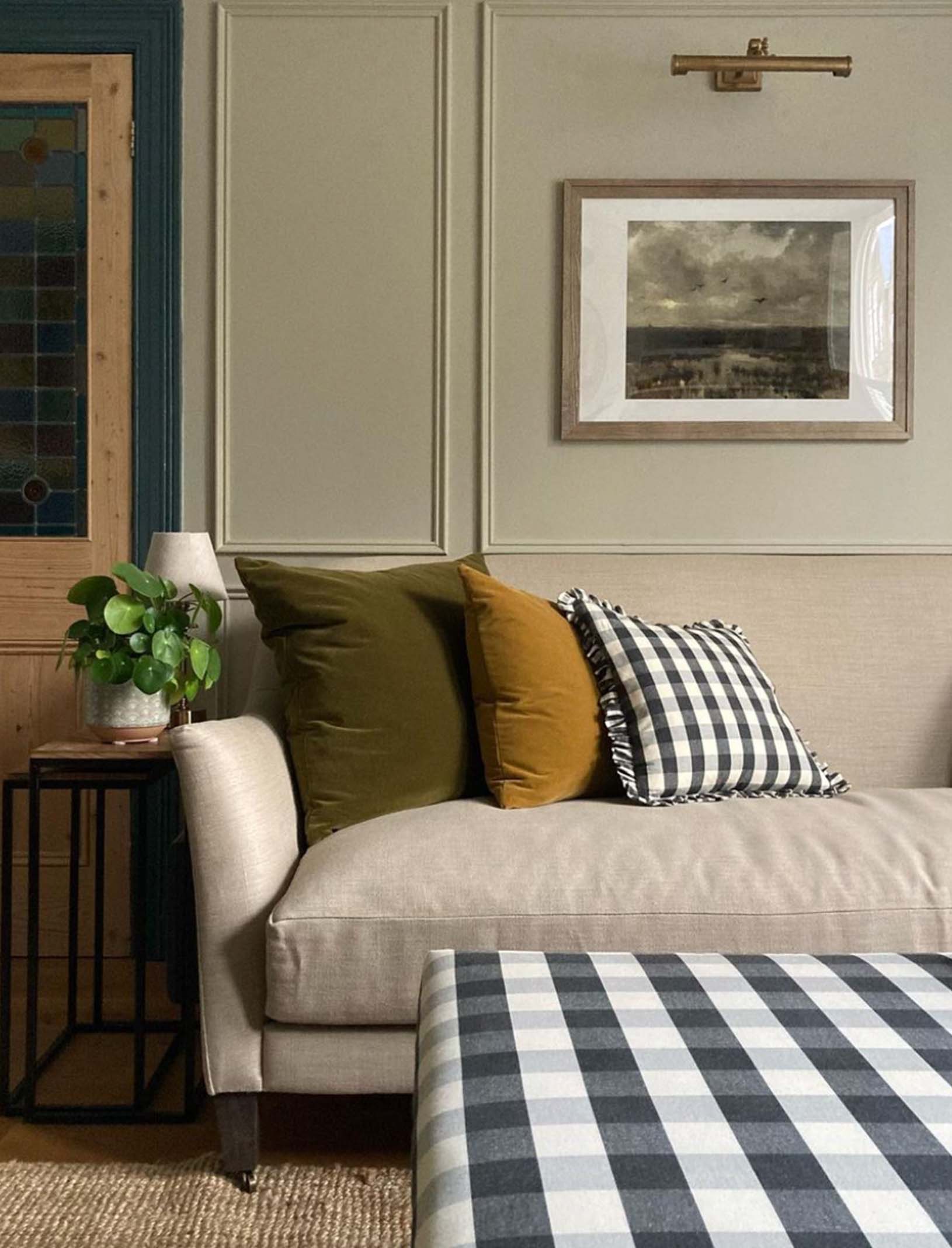 Bloomsbury sofa in Vinatge Pure Stain Resistant Linen, Olivesheen and Aubrey Footstool in Gingham Edit Black Check Large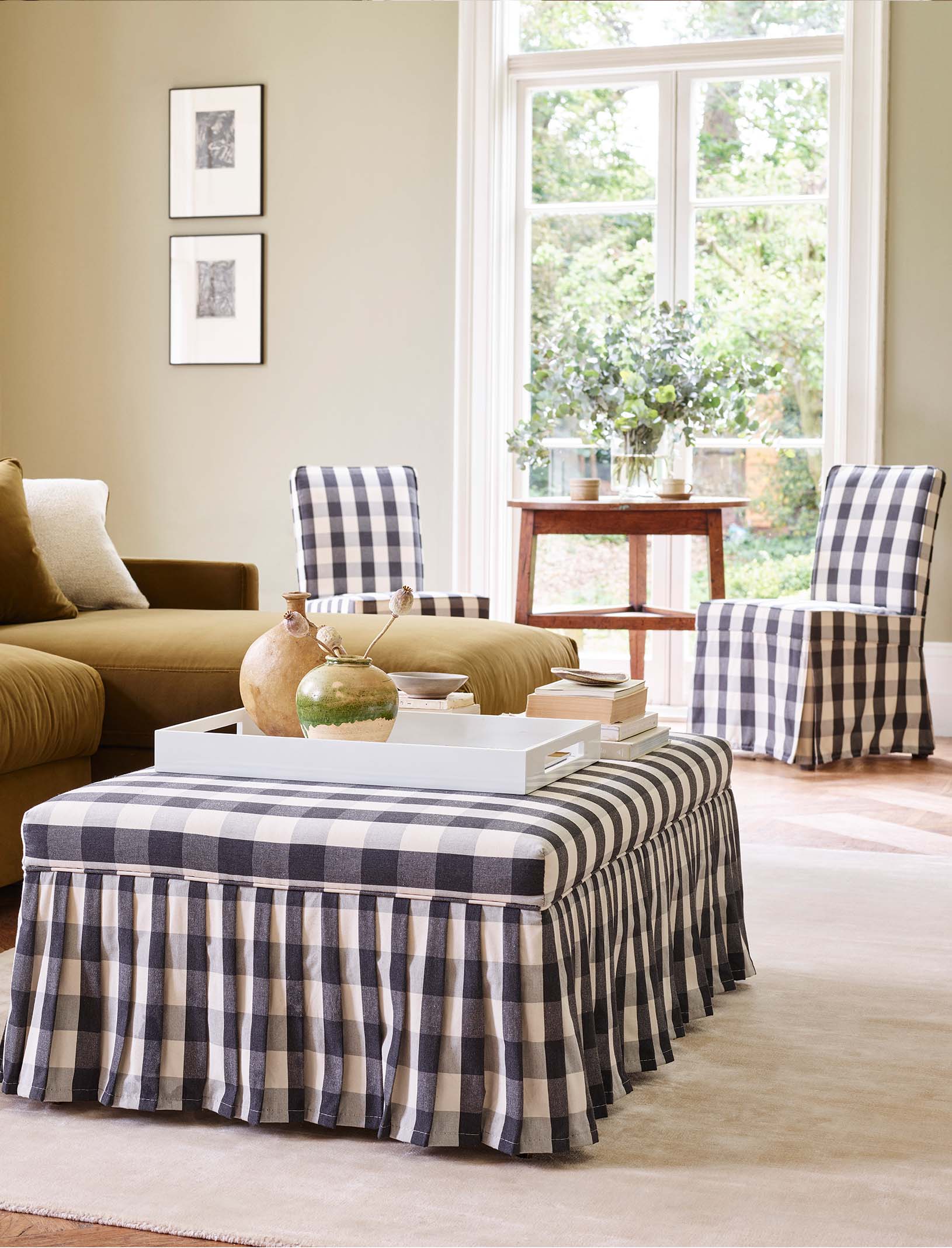 Aubrey Skirted Footstool Black Check Medium Gingham and the Felicity Dining Chair in Gingham
Images from: Sophia Nikolaides of @1894home and Emma Croman Photography.